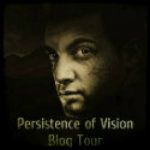 I have a special treat for you today. Many of you may know Liesel, she is a diligent blogger and awesome author. Her book Persistence of Vision came out recently and I knew I couldn't pass up the offer to spread the word. Persistence of Vision (Interchron , #1) is a new adult futuristic dystopian fantasy that sounds super exciting, just read the blurb. Also check out the guest post below to see what kind of music helps Liesel get in the mood for writing.
Summary
In a world where collective hives are enslaving the population and individuals have been hunted to the verge of extinction, Maggie Harper, and independent 21st Century woman, must find the strength to preserve the freedom of the future, but without the aid of her memories.

After experiencing a traumatic time loss, Maggie is plagued by a barrage of images she can't explain. When she's attacked by a creep with a spider's web tattoo, she is saved by Marcus, a man she's never met, but somehow remembers. He tells her that both he and her creepy attacker are from a future in which individuals are being murdered by collectives, and Marcus is part of the rebellion. The collectives have acquired time travel and they plan to enslave the human race throughout all of history. The flashes Maggie has been seeing are echoes of lost memories, and the information buried deep within them is instrumental in defeating the collective hives.

In order to preserve the individuality of mankind, Maggie must try to re-discover stolen memories, re-kindle friendships she has no recollection of, and wade through her feelings for the mysterious Marcus, all while dodging the tattooed assassins the collectives keep sending her way.

If Maggie can't fill the holes in her memory and find the answers to stop the collectives, the world both in her time and in all ages past and future will be doomed to enslavement in the grey, mediocre collectives. As the danger swirls around her and the collectives close in, Maggie realizes she must make a choice: stand out or fade away...
Goodreads | Purchase: Amazon Print | Amazon Kindle | Barnes & Noble
Since my book came out, I've been asked a lot about music. People like to know what songs, or types of music I associate with each character. In truth, this isn't something I do in my writing. Perhaps I should, but so far I haven't.
I especially don't associate specific characters with specific songs. In my mind, that pigeonholes them too much. Most of my characters will change and grow over the series, so I'm not a fan of pinpointing them too closely at any given time. Not that it's bad when other people use this tactic to define characters. Sometimes it's done astoundingly well. It's just not my thing.
I do use music to get into the mood to write a particular scene. If I'm writing a scene (or character in that scene) that is full of drama and angst, I often listen to angry boy music like Creed, Linkin Park or Breaking Benjamin. If it's a tragic scene, I'll listen to sad oldies (The Last Kiss—Pearl Jam, Alone Again Naturally—Gilbert O'Sullivan, With This Tear—Celine Dion) or sad country (Whiskey Lullaby). If I'm going to write something that's kind of surreal or abstract like a legend or a distant history, I might listen to music that's folksy/blue grass like Loreena McKennitt.
Florence and the Machine's music has been used in a lot of trailers lately as well. (Game of Thrones Season 2, Snow White and the Huntsman, Beautiful Creatures). Much of her music works well for story glimpses because it has enough of a drama/action feel to it to get your blood pumping, but is beautiful enough to sound like art, both for the plot and the characters.
So, do I sit around with my headphones on, making up trailers in my head for my stories? I…think I'm gonna take the 5th on that one. :D But music is a great way to feel a story. In fact, I would love it if some of my readers came up with suggestions on songs for particular characters or scenes. I would love to know how you envision the story musically. Happy listening, Everyone. :D
Author Bio
Liesel K. Hill graduated from Weber State University with a degree in Creative Writing. She writes across three genres: scifi/fantasy, historical fiction, and crime drama. She comes from a close-knit family of fourteen and has very traditional views and values. She loves story-telling in all its forms, playing with her nieces and nephews, talking movies with her siblings, and any recipe with 'dark' and 'chocolate' in the title.
Links: Website | Blog | Twitter | Facebook | Pinterest | Goodreads